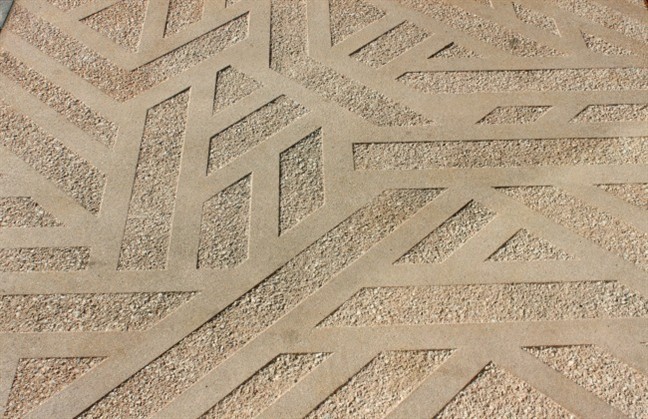 Victory Park
Victory Park is a 75-acre mixed-use development in the heart of downtown Dallas. Victory Park surrounds the American Airlines Center, which is home to the Dallas Mavericks and Dallas Stars and is one of the most popular venues in the area for big-name concerts and shows.
The first phase of the development opened in 2001 and in 2014, a new owner commenced on redevelopment with a focus on pedestrian-friendly improvements to Victory Park Lane.The goal was to improve the overall pedestrian experience and connectivity between Victory Plaza and the southern area of Victory Park, and the street and streetscape improvements are a vital component of transforming Victory Park into the premier walkable entertainment district in Dallas.
4,500 SF of Bomanite Sandscape Paving was installed as focal points in the hardscape areas along Victory Park Lane. The project was built in 3 phases to accommodate the W Hotel, high-rise residences, restaurants, and other businesses along Victory Park Lane.Bomanite Sandscape was part of the hardscape design, which included granite pavers, concrete pavers, and amenities such as benches, lighting, tree grates and signage.
The integral colored Sandscape paving, as designed by Stantec, was installed in the areas between the tree grates and curbs. Texas Bomanite crews set the tree grates prior to pouring the concrete.Coordination of work to meet the General Contractor's schedule was critical.The Architect's design of the Sandscape areas included sandblast of a geometric pattern.A Surface Deactivator #5 was used on the initial pour and the sandblasting followed with a 3/16" deep exposure.By using metal templates that were manufactured by a machining company that uses water-jet cutting, we created the precise sandblast pattern required of the project.
For more information, photos and a video of the development, visit http://victorypark.com/new-victory-park/. For more information on the designers, visit http://www.stantec.com/content/stantec/en.html.